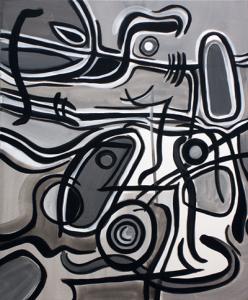 I believe the "logic" of abstract art is purely an internal logic: a logic of the visual language. Some or many elements compete for various positions in the totality of the piece, and those elements can be compared to the elements of spoken language. Some areas are dominant, like the subject of a sentence. Some carry the "action," as a verb does. Other areas of the composition are transitional and create linkage between one area and another, kind of like a preposition.

This is just my own perception. But in my thinking, I have run into this metaphor again and again. And I'm fascinated by the language comparison: in this case, with the analogous visual parts making up the analogous (visual) "whole."

Lynda Lehmann c 2013
from "Peripheral Vision: Inner Sights by Lynda Lehmann"